Ad blocker interference detected!
Wikia is a free-to-use site that makes money from advertising. We have a modified experience for viewers using ad blockers

Wikia is not accessible if you've made further modifications. Remove the custom ad blocker rule(s) and the page will load as expected.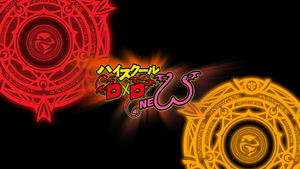 High School DxD New (ハイスクールD×D NEW Haisukūru Dī Dī Nyū, also written as Highschool DxD NEW) is the second season of the High School DxD anime, that aired on July 7, 2013 on AT-X and other networks. It was announced according to the anime's official Twitter account which posted a picture of their booth in the upcoming Anime Contents Expo 2013 event with the season's release date.
New covers the first half of the Birth of the Breast Dragon Emperor arc of the light novels, and is split into two major parts: "The Excalibur of the Moonlit Schoolyard" (月光校庭のエクスカリバー編) and "The Vampire of the Suspended Classroom" (停止教室のヴァンパイア編). The new season is produced by TNK and is directed by Tetsuya Yanagisawa and written by Takao Yoshioka, as with Season 1.
An OVA bundled with the limited edition release of High School DxD DX.1 was released on March 10, 2015 on Blu-ray disc. The episode features an original plot written by Ichiei Ishibumi himself.[1]
No.
Title
Romaji/Kanji Title
Original Air Date
01
"Another Disquieting Premonition!"
"Fuon'na yokan, Futatabidesu!"
(不穏な予感、再びです!)
July 7, 2013
02
"The Holy Sword Is Here!"
"Seiken, Kimashita!"
(聖剣、来ました!)
July 14, 2013
03
"I'll Destroy the Holy Sword!"
"Seiken, Hakai Shimasu!"
(聖剣、破壊します!)
July 21, 2013
04
"A Strong Enemy Appeared!"
"Kyouteki, Arawaremashita!"
(強い敵、現れました!)
July 28, 2013
05
"Decisive Battle at Kuoh Academy!"
"Kessen, Kuō Gakuen!"
(決戦、駒王学園!)
August 4, 2013
06
"Go! Occult Research Club!"
"Ike! Okaruto Kenkyū-bu!"
(行け! オカルト研究部!)
August 11, 2013
07
"Summer! Bathing Suits! I'm in Trouble!"
"Natsu-desu! Mizugi-desu! Pinchi-desu!"
(夏です!水着です!ピンチです!)
August 18, 2013
08
"The Class Observation Begins!"
"Jugyō Sankan, Hajimarimasu!"
(授業参観、はじまります!)
August 25, 2013
09
"I Have a Junior!"
"Kōhai, Dekimashita!"
(後輩、できました!)
September 1, 2013
10
"A Three Way Stand-Off Variety!"
"Iroiro, Sansukumidesu!"
(色々、三すくみです!)
September 8, 2013
11
"The Top Conference Begins!"
"Toppu Kaidan, Hajimarimasu!"
(トップ会談、はじまります!)
September 15, 2013
12
"Two Heavenly Dragon, Collide!"
"Ni Tenryū, Gekitotsu"
(二天龍、激突!)
September 22, 2013
13OVA
"I'm Enveloped in Breasts"
"Oppai, Tsutsumimasu"
(おっぱい、包みます!)
March 10, 2015
References
Edit
External Links
Edit