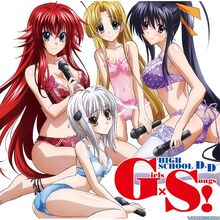 High School DxD: GirlsxSongs! (shortened to GirlsxSongs!, read as "Girls Songs!") is a mini-album featuring the main female cast of the High School DxD anime. It was released on June 27, 2012 by Lantis.
Track List
Edit
| Track | Track Title | Artist | Length |
| --- | --- | --- | --- |
| 01 | Crimson no Binetsu (クリムゾンの微熱 Kurimuzon no Binetsu, "Low-Grade Fever of Crimson") | Rias Gremory (Yōko Hikasa) | |
| 02 | Kurokami BEGIN-TALE (黒髪BEGIN-TALE Kurokami Bigin Teiru, "Black-Haired Begin Tale") | Akeno Himejima (Shizuka Ito) | |
| 03 | Kagiri naku Junsui ni Chikai Daten~Fall Down~ (限りなく純粋に近い堕天~Fall Down~, "Falling as Close to Pure as Possible: Fall Down") | Asia Argento (Azumi Asakura) | |
| 04 | Jounetsu☆Unbalance (情熱☆アンバランス Jōnetsu☆Anbaransu, "Passion Unbalance") | Koneko Toujou (Ayana Taketatsu) | |
| 05 | STUDYxSTUDY (GxS Version) (STUDY×STUDY (G×Sバージョン) Sutadi Sutadi (Jī Esu Bājon)) | Occult Research Club Girls (Rias Gremory, Akeno Himejima, Asia Argento, and Koneko Toujou) | |
Personnel
Edit
STUDYxSTUDY (GxS Version) was previously recorded on STUDYxSTUDY by the voice actress group StylipS.
References
Edit
External Links
Edit
Ad blocker interference detected!
Wikia is a free-to-use site that makes money from advertising. We have a modified experience for viewers using ad blockers

Wikia is not accessible if you've made further modifications. Remove the custom ad blocker rule(s) and the page will load as expected.